Tires are the connection between your vehicle and the surface of the road. They are responsible for transmitting the forces of driving, steering, and braking. If you're dealing with a tire maintenance issue, look no further than your local Jiffy Lube of Indiana location. Our services range from installation and tire rotation to flat repairs and computerized wheel balancing.
The Benefits of New Tires:
When tires are worn they heat up more quickly, puncture more easily, and take on roads less effectively. They may also emerge as a potential danger to you and other motorists.
In addition, the condition of your tires is directly correlated to your fuel efficiency. If you're driving on a set of worn tires with an uneven tread pattern, your gas mileage will suffer because your car must work harder to put its power to the ground.
The cost of new tires is very minimal compared to the benefits they bring. A set of new tires will provide a safer ride, increase the performance of your vehicle, improve traction and provide an overall better driving experience.
Before you purchase a set of new tires our service staff will conduct a thorough investigation of your driving needs to help guarantee the best possible set for your vehicle.
Extending the Life of your Tires with our Tire Rotation Service:
Tire rotation involves changing the position of a vehicle's tires in order to reduce massive tread differentiation between them. Rotating your tires can also encourage better performance and save you money by contributing to better gas mileage.
The Jiffy Lube of Indiana technicians will rotate your tires according to the manufacturer's tire rotation patterns. Depending upon the type of vehicle and the type of tires on the vehicle, the tire rotation pattern may vary.
We may exchange the front tires with one another, switch the rear tires with one another, or swap the front and rear tires. If your vehicle has a full-size matching spare tire, it may also be included in the rotation cycle.
Tire Repairs in a Jiffy:
It is not uncommon for a sharp stone, nail, or an infamous pothole to puncture a tire but a flat tire doesn't have to ruin your day. The sooner you are able to bring a mildly- to moderately damaged tire in for repair, the more likely it is that the tire can be saved.
The methods used by our service staff to repair a tire comply with the Tire Industry Association (TIA). The TIA states that a flat tire can be repaired if the puncture is ¼ inch or smaller and if the puncture is located on the tread of a tire.
Learn more about our tire repair services or schedule your service here.
How We Fix Tire Vibrations and Pulling: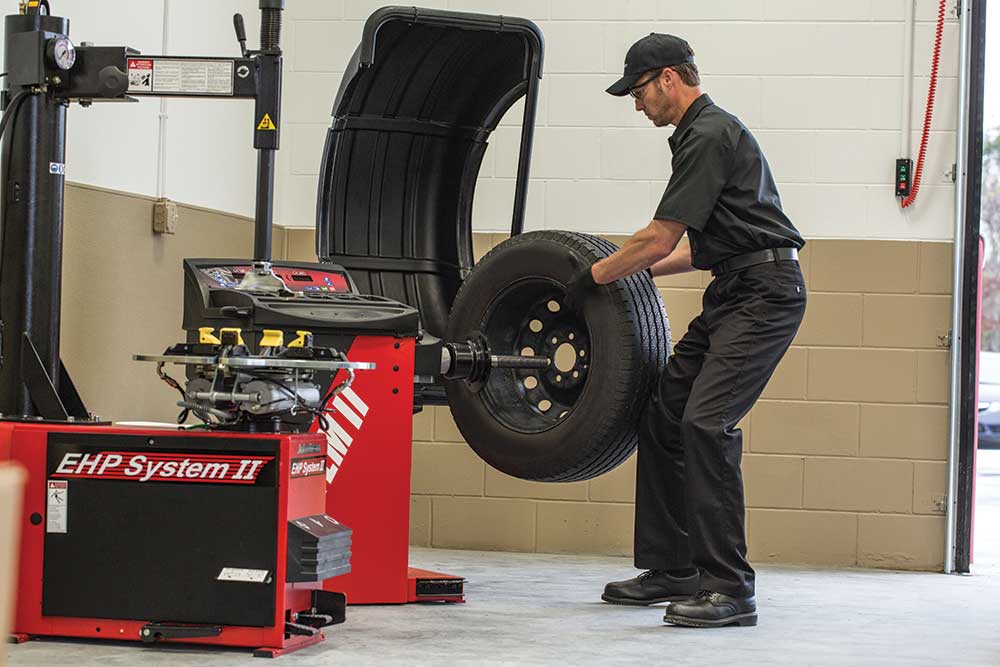 If you experience vibrations in your vehicle, then one or more of your tire and wheel assemblies may be in need of rebalancing.
Our experts will mount your wheel on the computerized wheel balancing machine and spin it. Using the information we receive from our computerized wheel balancing equipment, our service staff will apply additional weight to the indicated areas in order to alleviate vibrations and help the assembly roll more smoothly.
A computerized wheel balancing service will return the balance of your car or truck's wheels to factory specifications. With your tires and wheels properly balanced, you can enjoy an overall smoother ride, greater control, and longer lasting tires.
Jiffy Lube of Indiana has a longstanding reputation for performing quality repairs. Our team is well-equipped to handle your vehicle's needs, including matching you with a set of tires from excellent brands like Kumho, Nexen, Ironman, and more! Check out all our tire services for more details.